Lasting Finish Matte Lipstick by Kate Moss
Recently got a peek of the Kate Moss lipstick collection and I must say I'm really excited to try this product out, maybe next week I'll purchase one and do a product review on it. Lots of buzz surrounding this product. First it's Kate Moss of course women are going to run out and buy it, but mosty importantly is a great product that anyone can purchase. Very nice matte colors and the longetivity I've heard on this lipstick is amazing.
Price
Retail - $ 5.49
Amazon
- $ 2.25
Ebay
- $ 7.99
L'Oreal True Match Super-Blendable Foundation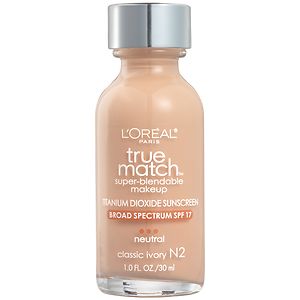 I've been going back and forth trying to decide if I would rather buy Revlon Colorstay Foundation or this one. I have heard great reviews about this product people are likeing it better then revlon colorstay which is a hard foundation to beat. Loreal has better coverage and is alot more blendable, Relvon has better long lasting power and is harder to blend. This product comes in more shades then colorstay but the packaging is also very annoying, I like the pump top for foundations. Still you can't beat the price or the quality of this product.
Retail - $ 10.29
Ebay
- $ 2.97 and up
Amazon
- $ 10.17
Maybelline Dream Lumi Highlighter Concealer
Have heard great stuff on this product. One half concealer, the other half Highlighter is the perfect product. It a gel based product the diffuses light, brightens and conceals. People have been comparing this to high-end concealers. Blends evenly into skin to make your eyes look, brighter and younger, Comes in 6 different shades.
Retail
- $ 7.99
Ebay
- $ 2.27
Amazon
- $ 1.47
Revlon Colorburst Soft Nude
Revlon has some great lipsticks and Revlon Colorburst in soft nude is the perfect shade for that perfect nude look. I've been looking for a nice nude color for a long time and I always bought the wrong shade. Ive hear people raving about this lipstick and how is the perfect shade for a sexy nude lip. For a even softer nude lip coat revlon super luctrious in peach. I just read that this lip shade might be discountined, but it also might be just be rumors.
Retail
- $ 6.48
Amazon
- $ 7.99
Ebay
- $ 9.99